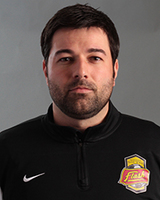 Daniel Clitnovici
Assistant Coach/Academy Director of Coaching
Daniel Clitnovici brings a wealth of experience to the Western New York Flash. Clitnovici joins the Western New York Flash from his head coaching role with Colorado Pride Women in the USL W-League and from his position as Director of Coaching for Northern Colorado Soccer Club. Daniel will serve as the Main Assistant and also overlook and train the Flash Goalkeepers along with his role as the Western New York Flash Elite Academy's Director of Coaching.
His professional playing resume spans over 10 years and includes stints with Gold Coast United FC in Australia, Universitatea Craiova in Romania, Barnsley FC in England and Apollon Athinon in Greece. His final professional season came in 2008-09, playing in Spain for Elche CF and CF Illicitano.
After his playing career ended, he entered into the world of coaching. Professionally, he began his coaching career a head coach for the Colorado Rapids W-League Women, where he would compile a record of 25-10-3. During that span, he was also the Head Coach of the Colorado Rapid's U20 Girls which he guided to the 2012 USL U20 National Championship, defeating DC United 1-0 in the Championship game. This is still the only national silverware that the club has won on the girls side to date.
Clitnovici would not stop there. In 2014, he head coached the Colorado Pride Women in the USL W-League leading the inaugural season franchise to the Western Conference Championship game. Clitnovici built a fortress at home as the Colorado Pride Women had shutouts in all of their 10 home games. His stellar coaching was rewarded as he was named 2014 W-League Coach of the Year.
Coach Clitnovici has over 15 years of elite level coaching experience and will look to lead the Flash Academy to the highest levels possible on the national stage. As the Director of Coaching, Clitnovici will oversee the development of the Flash Academy including players and coaches for the U9-U18 age groups. Daniel has an outstanding reputation across the USA and players throughout Western New York will benefit greatly from his knowledge, passion and teaching of the game
In his personal time Daniel enjoys horse racing, playing tennis, and cheering on his favorite soccer teams, the WNY Flash, and Tottenham Hotspur.
His coaching education includes: US Soccer Federation "A" License, NSCAA Advanced National License, NSCAA Advanced National GK License, NSCAA Director of Coaching License, FFA National Youth License, FFA Goal Keeping Level 1 License, and FFA Grass Roots Diploma.