06/15/2017 9:21 AM
-
WNY FLASH ACADEMY GIRLS PROGRAM QUALIFIES FOR NATIONAL PLAYOFFS
03G Finishes as One of Top 16 Teams in Nation
BUFFALO, NY (June 14, 2017) --- In their inaugural season in the Elite Clubs National League, the Western New York Flash Academy girls program has qualified for the ECNL Playoffs.
The Elite Clubs National League (ECNL) was founded in 2009, and is the top development, training and competition platform for youth female soccer players in the United States. The ECNL is the undisputed best pathway for soccer players to advance on to college rosters throughout the nation.
The Flash Academy recently traveled to New Jersey with four age groups for their final national showcase, which saw over 180 different college coaches scout their matches. On the final weekend of the season, the 03G ECNL took home two much-needed 4-1 wins over FSA FC and Connecticut FC, respectively, to round out an astonishing season and qualify for Nationals.
The 03G team finished in second place in the Northeast Conference after finishing with an spectacular 20-3-3 record. The team is currently ranked 8 out of 84 teams in the ECNL and are in the top 10% in the top youth development and competition platform for youth female soccer in the United States. The squad also finished in second in goals scored with 56.
"It has been a great journey for the 03's," Academy Vice President and 03G coach Aaran Lines said. "They train hard, play hard strive to be better, every day. Advancing to Nationals as one of the top 16 teams in the country is a huge achievement in itself. If players are committed to train, and committed to a process through all the ups and downs that competitive sport brings, then this is the sort of success a well-run and well-managed program can deliver."
Next for the Academy is the ECNL National Playoffs from June 22nd to 27th in Rockford, Illinois. Teams must finish as one of the top 16 teams in the country to qualify, and the 03G's have done just that in the U-14 age group.
"The opportunities that come from this sort of national level success are significant, and will reverberate beyond just the 03 team," Director of Coaching Rob Ferguson explained. "As the Flash program continues to develop players and move them on to top college programs while attracting national level accolades, the program will grow stronger and change the landscape for youth soccer players in Buffalo and WNY."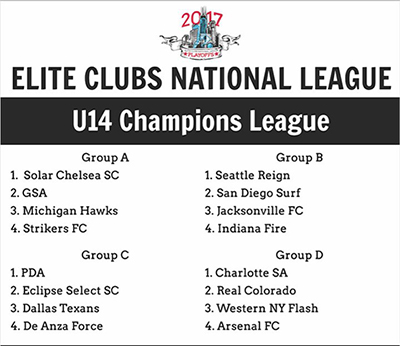 In the Champions League format, the Flash Academy was placed in Group D and will take on Charlotte SA, Real Colorado and Arsenal FC in the group play portion. If they advance from their three games in the group play portion, they'll play in a semifinal and potentially the final for a chance to be crowned champion.
For more information on the Flash Academy and tryout information for the 2017-18 season, please click here.
Updates from the ECNL Playoffs will be available on the WNY Flash Academy twitter feed, which can be found here.