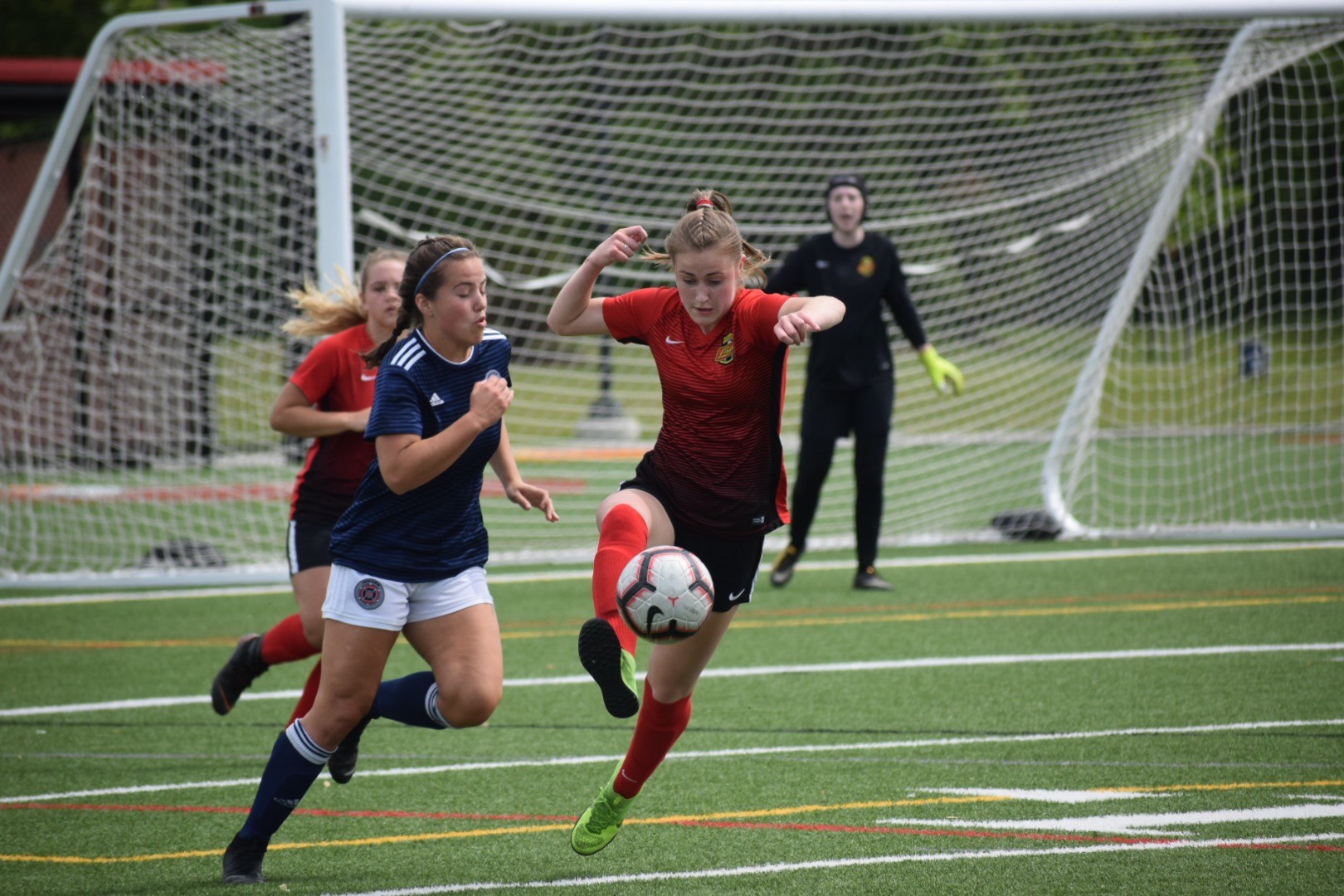 November Girls Spotlight: Brigid Molloy - 02/03G ECNL (Nardin Academy)
---
Q&A
What year did you join the WNY Flash Academy?
I started playing in 2012, the very first year of the WNY Flash Academy.  I remember tryouts with my current teammate Mirann Gacioch on the grass fields way in the back of SSP.  I was part of the first U10 team, which started out with like 6-7 girls at the beginning and then more players were added during the winter.  We were coached by Pedro Losa, who went from coaching a girls U10 Academy Team in Western New York to being the head coach of the Arsenal Women's Team in England!
---
How has the WNY Flash Academy become a second home for you? How cool has it been to see the club grow and progress throughout the years, knowing that you are a big part of that?
Being with the Flash from the beginning definitely makes it feel like it is my second home.  In the early years it really was just a small group of the best local players, and looking back it reminds me that we were so young then.  The U11s and U12s academy teams were called the Euro Champions at the time.  There were no boys.  I think there were only like 3 total teams and no one older than U12.  Now the club has grown so big and has become so successful.  We have so many players in college.  The boys side is growing and now are very good.  Kids from across New York, Pa., and Ontario are traveling huge distances to be part of these teams because of how good the club has become.  It is really crazy to think how much has changed in only 8 years.
---
You are obviously very accomplished, what award or team selection has meant the most to you and why?
I think my selection to the U.S. Youth National Team has meant the most to me.  Being called into the U.S. National Team was definitely a goal since I was young, and I assume most young girls have that type of goal.  It meant a lot because I think I am the only girl from our area to be called into a national team and I feel like it opened eyes of the U.S. national team coaches that there are good players from WNY.  I hope it opens doors in the future for younger players with the WNY Flash Academy.
---
Is there an award or team selection that you are still striving for and hope to accomplish this year?
I still want to win an ECNL National Championship and that is our goal this year.  We were so close two years ago, losing on PKs in the national quarterfinals.  If we can get our Canadian teammates back soon, I think our team will be focused on getting back to that stage.
---
How have you grown as a player since joining the WNY Flash Academy?
I have been with a really good team and have had so many talented teammates during my years with the WNY Flash.  It is so true that players improve based on how they train and how they practice.  That is how and why I have grown as a player.  Our '03 ECNL teams have always been very focused and we push each other every game, every training, every drill.  That has made me grow in competitiveness and seriousness.  Every player gets better when they train the way our '03 team trains.
---
Have there been any specific coaches or role models within the organization that have impacted you in a positive way?
There is no question that Aaran Lines has had a huge impact on me as a person and as a soccer player.  Obviously Aaran's training sessions are what shaped our team's focus and competitiveness, but he also pushed me in a way that positively impacted my development.  I think the way he urged me to be creative is a main reason in my development as an offensive player. I also have to say that Pedro Losa was a great role model.  There aren't many 10-year-old girls getting coached by someone like Pedro!
---
Talk to me about going to school and playing soccer at Nardin. Do you have a favorite class? Have you won any sort of academic awards? How is it balancing playing for the Flash and competing for Nardin soccer wise?
Attending Nardin has been a great experience.  It is a very accomplished high school academically, and it has really prepared me for a challenging college like Villanova.  There are too many brilliant students there for me to win any academic awards! Playing for the Flash has always been a higher priority than high school, and I think most Flash players prioritize that over high school teams.  So there is some trickiness balancing the two, but my Nardin coach is also a Flash coach so I know he understands!
---
How does playing for Nardin differ from competing for the Flash?
The best difference between Nardin and the Flash is that I have been able to play with my sisters at Nardin.  My older sister Abby was a junior captain when I was a freshman at Nardin and I played with her 2 years.  Now my younger sister Mary is at Nardin and I will play two years with her.  That is something you don't get with club soccer.
---
Do you play any other sports? Have any other hobbies or things that you like to do?
I plan to run track at Nardin this spring (last spring's track season ended because of COVID-19).
---
Favorites
Fast-Food Restaurant: Chipotle
Musical Artist or Band: Anything but country music!
Social Media App: TikTok
Chicken Wing Flavor: Spicy
---
Coaches Quotes
Rob Jackman, Girls Director of Coaching - WNY Flash Academy
"From as young as U10, you could tell Brigid had unique abilities with regard to her focus, effort, and game intelligence. It's no surprise she has been able to achieve what she has so far, and it will be exciting to see her progress even more in the coming years."
---
Eric Dade, Executive Director of Coaching - WNY Flash Academy
"Brigid Molloy is truly a special talent. An impact player with the ability to score goals and create for others around her. She is one of the top 2003 players in the country."
---
Aaran Lines, Vice President - WNY Flash Academy
"I've had the pleasure of coaching Brigid since she was 11 years old. It has been incredible to see her growth as a player and witness her develop at the Flash into one of the top 03 players in America. Brigid is a creative, dynamic player who regularly scores from midfield. Not only does Brigid have exceptional talent, but she has an unrelenting hunger and drive that sets her apart from others. I'm excited to see Brig impactful in the next phase of her career at Villanova."