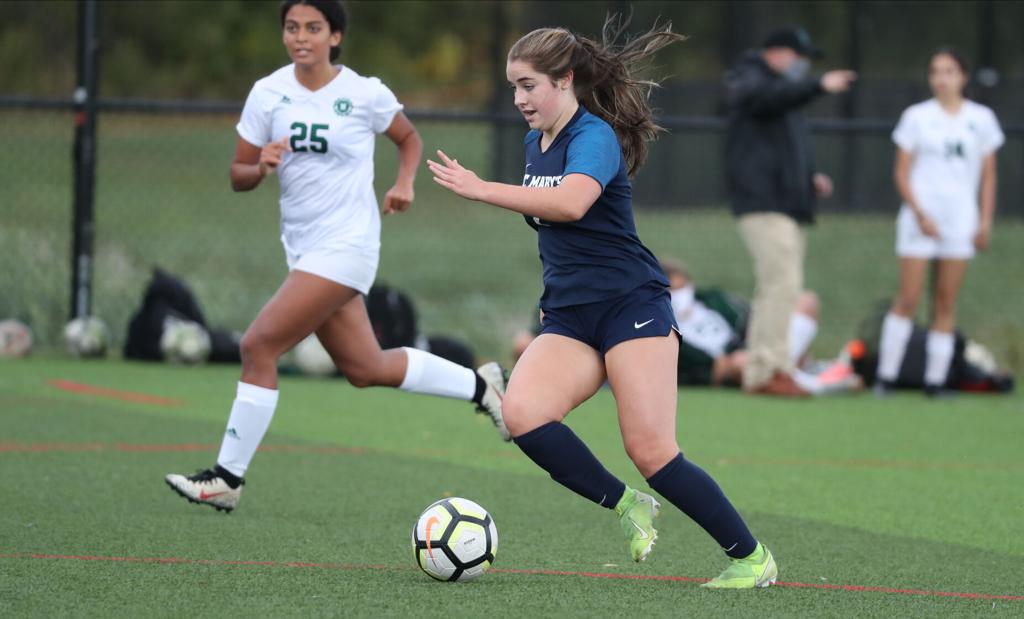 Photo Credit (on right): The Buffalo News
December Girls Spotlight: Shae O'Rourke - 04G ECNL (St. Mary's HS)
---
Q&A
What year did you join the WNY Flash Academy?
2012
---
How have you grown as a player since joining the WNY Flash Academy?
I gained confidence to try to be a better player and the mentality to learn all the areas of the game. I have grown in every area as a player and continue to grow and learn.
---
Have there been any specific coaches or role models within the organization that have impacted you in a positive way?
I had so many positive role models along the way. Coach Pedro (Losa), Rob Ferguson, Aaran Lines, and Brittany Heist. I was introduced to the Flash with Pedro, who improved my game from the travel soccer level to premier. After Pedro, I was coached by Aaran Lines who challenged me to play at a much higher level. Coach Rob was next, who made me feel comfortable, which instilled more confidence in myself. I was then then lead back to 'Kiwi" (Aaran Lines), he is the coach who really believed in me and wants me to be at my full potential. Lastly, I wanted to mention Coach Heist, since she works at the academy as well. She brought the same philosophies to St. Mary's from the WNY Flash Academy and has given me opportunities to grow as a player.
---
You have had a tremendous high school playing career thus far, capturing back-to-back WNY Player of the Year honors and surpassing 100 careers this past season, what does it mean to you to accomplish these feats?
It was a great feeling and accomplishment, but it was even better to get there with my team. Without my teammates I wouldn't have gotten where I am today.
---
There is no doubt that the world we are living currently presents some challenges, what is your advice to younger athletes out there that may not be able to play the sports they love at the moment?
My advice would be to focus more on self-improvement. During these times, I mastered my left foot and am trying to stay fit.
---
You are committed to the University of South Carolina. What made you want to commit to be a Gamecock? What do you like about the school? The women's soccer program?
I committed to the University of South Carolina my freshman year. Even though some felt it was early, I felt that it was a perfect fit for me. The comfort level began with the phone calls with the coaches. What stood out to me about the coaches was their interest in knowing more about me and my family personally, more than a soccer player. The calls lead to a campus visit, which I immediately fell in love with. During my visit, I attended a camp in which the coaches and players made it feel like a family atmosphere.
---
How would you describe yourself as a soccer player? How do you think your teammates would describe you?
I would describe myself as a physical, competitive, determined soccer player. I believe my teammates would describe me as fun, hardworking competitor.
---
Do you have a favorite memory from playing soccer with the WNY Flash Academy or at St. Mary's High School?
My favorite memory of the Flash was my first game on the new Flash Fields vs. FC Pride, who were the reigning champs from last year. We took it to them with a number of goals. It was the first time our team believed we were destined for more.
My favorite memory from playing at St Mary's was my 100th goal game vs. Nardin. Even though we lost, the support from my teammates, and the smile from my coach was a special moment in my high school career.
---
Do you play any other sports?
I used to play volleyball and basketball, but as soccer got more involved in my life, soccer took over most of my time.
---
As we head towards the 'Holiday Season,' do you have a favorite Christmas (or holiday) present that you got when you were younger?
My favorite gift was my Hover Board as I wanted to get on it right away, but of course my parents didn't charge it.
---
Favorites
Professional Soccer Team: U.S. Women's National Team
Fast-Food Restaurant - McDonalds
Musical Artist or Band:  I don't necessarily have a favorite band or artist, but I like to listen to pop or rap.
Social Media App: TikTok or Snapchat
---
Coaches Quotes
Eric Dade, Executive Director of Coaching - WNY Flash Academy
"Shae is a player driven to score goals and win games. Her mentality to succeed separates her from others. A rare talent that is a joy to watch."
---
Aaran Lines, Vice President & Girls ECNL Director - WNY Flash Academy
"We recognized Shae had a special talent when she first came to the club when she was 8 years of age, and she was able to fully invest herself in our infrastructure, professional coaching staff, and club resources. Shae has next level understanding of the game, excellent technical ability, is very good in front of goal, is naturally incredibly driven, and hungry to be the best player on the field. If Shae continues to train hard over the next 18 months and refine her incredible talent, I see big things coming out of Shae in the future and can't wait to see what she does at SEC powerhouse South Carolina."