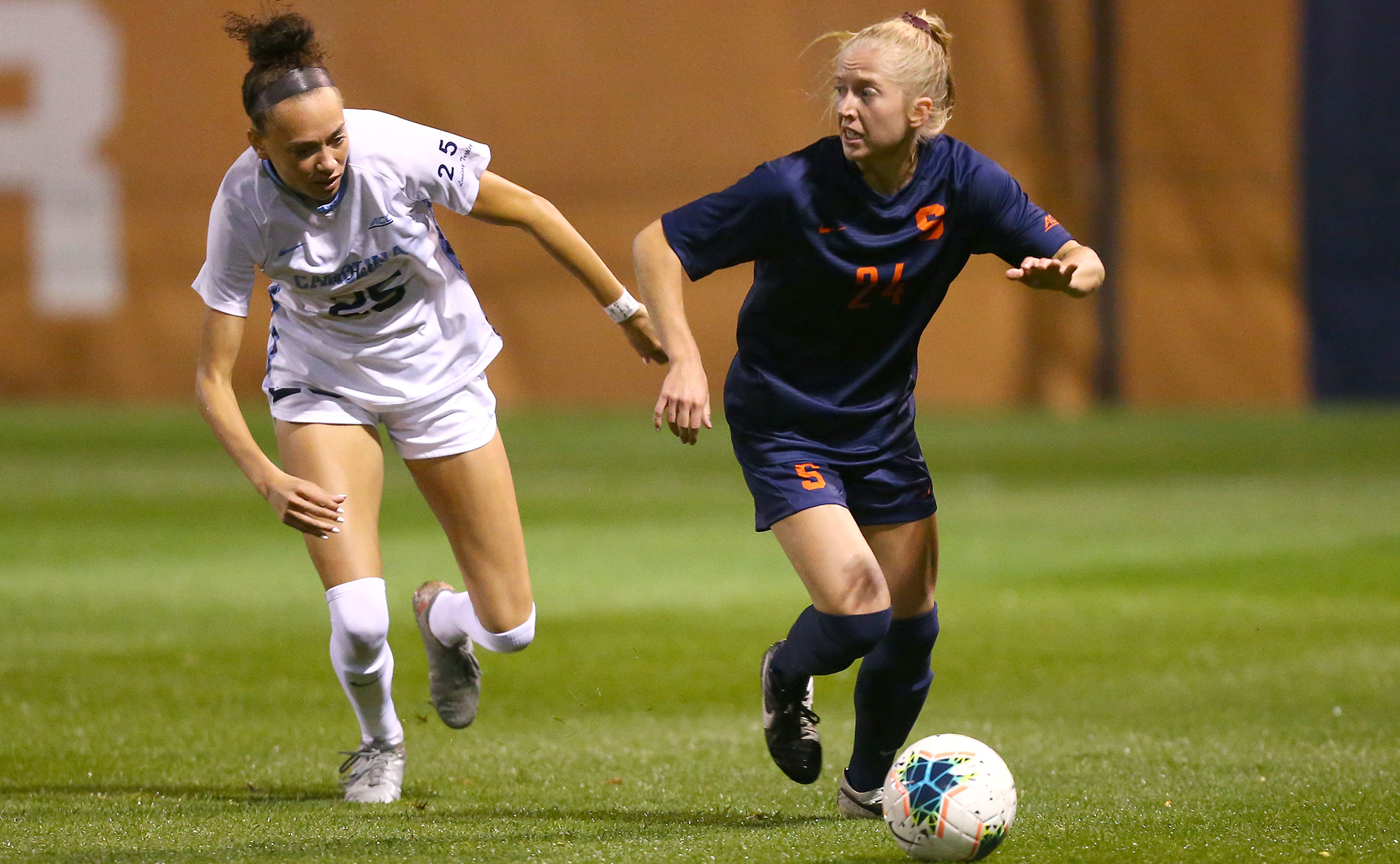 Photo Credit: Syracuse University Athletic Department
December College Spotlight: Meghan Root - Syracuse University
---
Q&A
In the ever-changing and challenging times that we are currently living in, where a lot of college athletes did not get the chance to compete this fall, what did it mean to you to have some semblance of a season with Syracuse?
It was amazing to have a bit of normalcy in having a season this year. Soccer has always been an outlet for me - especially during stressful times - and I felt so lucky to have that outlet this fall. I'm very thankful for the entire staff at Syracuse and in the ACC that gave us the opportunity to compete. It was definitely different than any season before, but if I can be out on the field, I'm happy.
---
You have obviously made quite the impact at Syracuse since joining the program, becoming a staple in the starting lineup and tallying six goals over your career thus far. How did the WNY Flash Academy help prepare you for your collegiate playing career?
The WNY Flash Academy definitely prepared me for my collegiate playing career. My time with the Flash helped me develop training habits that helped ease my transition from club to college soccer. Playing for the Flash allowed me to play in a professional, fast-paced environment that closely mirrors that of college soccer.
---
There is no doubt that the world we are living currently presents some challenges, what is your advice to younger athletes out there that may not be able to play the sports they love at the moment?
My advice is simple: do what you can and trust that things will get better. I know it's frustrating not having access to training/gyms/facilities—but whatever you do has value. Whether it's kicking a ball against the curb or dribbling the ball around your house, you can still get better. Don't let the current limitations stall your development! Go back to the basics and enjoy the little things! Even if it doesn't feel like much, it adds up over time.
---
How did the WNY Flash Academy help you grow and develop not only as a player but as an individual? Were there any specific coaches or role models within the organization that impacted you in a positive way?
I credit the Flash with a lot of my development as both a player and a person. Being part of the Flash Family gave me the work ethic and confidence to chase my dreams. Aaran (Lines) and Alex (Sahlen) were two of the most influential people in my life growing up. They were my most honest critics and my biggest fans at the same time. They always pushed me because they knew I was capable of more. Their investment in and commitment to me helped shape me into the person I am today.
---
Being from Arcade, N.Y., a town that a lot of our Flash Families have only ever driven through, do you have any places (restaurants, stores, parks, etc.) that you recommend?
Fun fact—I'm fairly sure Arcade has more cows than people! Aside from the cows, though, my favorite spot would have to be the turf field at the high school. I spent many, many days kicking the ball around after sneaking under the fence (I had permission—just no key!).
---
There are a ton of athletes from small towns, such as yourself, in Western New York and all across the United States. As someone who went from growing up in a small town to competing in the ACC for Syracuse, what advice would you have for these athletes that may think achieving their dreams is impossible?
My biggest piece of advice is to believe in yourself and your dreams and never let anyone tell you they are unrealistic. If you put in the work every single day, you can do anything you want.
---
As a public relations major in the Newhouse School of Public Communications, what is your dream job? Have you had any cool internship experiences?
My dream job is to be the communications director for a professional sports team or league—specifically, the WNBA or NWSL. I want to give back to sports - women's sports specifically - because sports have given me everything. I currently intern for the Syracuse University Athletics Communications Department!
---
What does the WNY Flash Academy mean to you?
The WNY Flash Academy is my home! It's where it all began for me. The Flash Academy laid the foundation for me to grow into the player and person I am today.
---
Favorites
Professional Soccer Team: NC Courage (gotta stay loyal!)
Fast-Food Restaurant - Chipotle
Musical Artist or Band: Taylor Swift
Social Media App: Twitter. Hands Down.
TikTok Dance: Not much of a tik-tokker myself (I'm old now, okay?)
Living in WNY: The wings and the Bills!
---
Coaches Quotes
Nicky Adams, Head Women's Soccer Coach - Syracuse University
"Meghan Root is one of the most disciplined, most responsible, most coachable athletes I have ever been around. Meghan takes pride in everything she does on and off the field to allow her to compete at the highest level every day. She is a warrior, a leader, and the ultimate student-athlete."
---
Aaran Lines, Vice President & Girls ECNL Director - WNY Flash Academy
"Meg Root is a player that helped build the Flash player pathway as a senior player in the WNY Flash Academy. Not only is Meg an excellent player on the field, but she is a true role model for younger players and a leader as evidenced by her role at Syracuse University. Meg is a player that can do it all- score, assist, defend, and lead. We are so proud of the person and player she has become and are excited to see where her junior year takes her. "